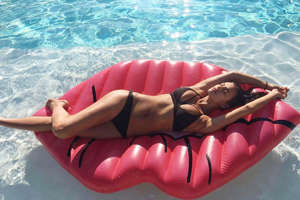 Irina Shayk took a break from sharing her usual photoshoot outtakes and campaign images on Instagram to give us an update on her real-life #currentsituation – but not everyone is pleased with the image. 
The photo comes just weeks after the model gave birth to her first child with Bradley Cooper, a baby girl named Leia de Seine, prompting some to say that the image promotes unrealistic body expectations for women who have just had a baby. In the model's latest picture, she sports a strappy black bikini while relaxing on a bright pink lip-shaped pool float
The reception has been mixed. While most have described her as "beautiful", "breathtaking" and a "hot mama" in comments on the Instagram post, others have questioned just how Shayk has managed to shed her pregnancy weight so quickly.
"How can be it possible just after delivering baby?" asked @beingacupcake.
"The body needs time to recover! It is not healthy to loose weight so quickly!" said @pimbolina69.
" I mean it's impossible even for her to look like this after 3 weeks. I love her, but this has to be an old pic," said @anisla_10.
"She gave birth exactly a month ago… Are we joking?" said @lianacrugnale.
"Dude you just gave birth are you kidding me! This isn't even real," said @lobna_hfaiedh.
However, others said that Shayk's lean post-baby physique was achievable.
"It is possible to look like this after birth," said @poestryisgoodnutrition. "The day I gave birth, I left the hospital with nearly a flat stomach. Within a week, my abs were visible and it looked as if I never had the baby at all. For those who say only people in Hollywood can do this, that's a straight up lie…you can be healthy and fit during and after pregnancy without needing a superstar's salary."
Related: Celebrity mums who love their post-baby bodies